On sale for only $2,900! Mark Kostabi is an American painter, sculptor, writer, and composer; he is most known for his faceless figures which often confront contemporary political, social, and psychological issues. His work quickly become a cultural icon of the era, since then his work has been featured in over 500 exhibitions worldwide. Kostabi is known to be 'a vivid, ballsy art-world critic' which he neatly declared that 'modern art is a con, and I'm the world's greatest con artist.' Every artist draws inspiration from anything to everything, it's just human nature. Whether one loves or hates his work, Kostabi has received fame and money for his paintings he was happy to call 'trash'.
Photo courtesy of France and Son
Kostabi has become famous due to his embarrassingly honest trait, whether it's an act or not, it clearly got him into the spotlight. People either hate or love him because of it, in some ways he insults other artists who actually create pieces they put on a pedestal. Either way, Kostabi knows how to get what he wants, recognition.
Photo courtesy of art space
Kostabi opened a studio named Kostabi World where he hired a handful of people to paint for him and even ideas. It's his way of showing irony about the subject of his paintings that brought up the reality of the corporate world. Nevertheless, his work helps you realize the issues that interest pretty much everyone.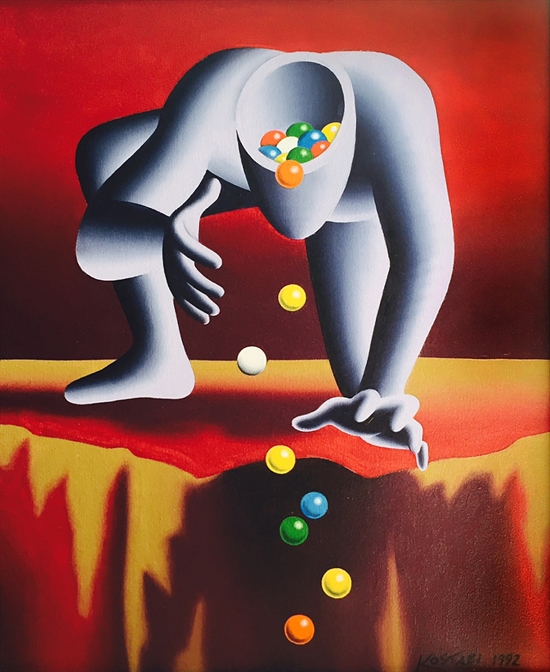 Photo courtesy of artnet
Mark Kostabi is more equally an artist and a businessman, and a good one at that. He knew where the market was and quickly moved to New York City to be in the loop. It's hard to say what he loves more, creating art or making money along with the fame. My guess is he found a talent in which he can make money off of.
Photo courtesy of zooart
Kostabi won the Proliferation Prize from the East village for being in more art exhibitions than any other New York artist; he clearly knows what he is doing in terms of growing his career. Aside from the traditional art exposure, he has done album cover for bands like Guns 'N' Roses, Jimmy Scott and more.
Photo courtesy of art space
Kostabi's works have been exhibited at the Mistukoshi Museum in Tokyo and the Art Museum of Estonia in Tallinn. He also has permanent collections in the Museum of Modern Art, the Metropolitan Museum of Art, the Guggenheim Museum, the Brooklyn Museum, the National Gallery in Washington D.C., the Museum of Contemporary Art, Los Angeles the Corcoran Gallery of Art, the Yale University Art Gallery, the National Gallery of Modern Art in Rome, and the Groninger Museum in the Netherlands.
Photo courtesy of Core Gallery
Materials: Framed Print
Condition: Excellent
The vintage Kostabi print is currently located in our Chelsea showroom at 122 West 18th Street, New York, NY 10011 and available to ship anywhere!
For only $2,900

Have some vintage finds of your own? Email us at vintage@franceandson.com to list your find on our blog for free. Submit pictures, a paragraph or two about your product, and give us a price and contact info to list it. We don't take any cut. We just ask that you inform us if/when it sells, so we can adjust the blog post accordingly.