Fine handcrafted Mid-Century rosewood dining table set designed by Niels Otto Møller for JL Moller at the price of $749! Sold as a set of 4 for one price.
Price: $3,989
Creator: J.L. Moller
Period/Era: Mid-Century Modern
Place of Origin: Denmark
Date of Manufacture: 1960s
Period: 1960-1969
Good condition
Materials: wood, rosewood, leather, black leather recycled leather, black leather
Dimensions: H 31" W 19.5″ D 19"
Seat 17.5" H

These are being sold as a set of 4 for one price.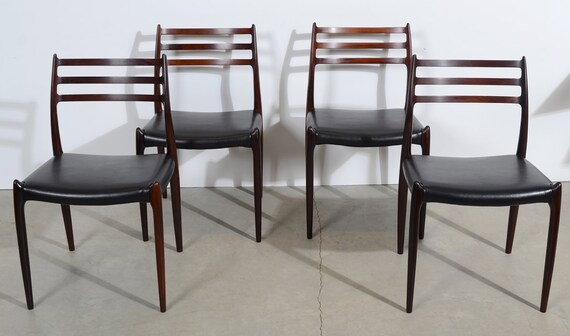 Have any questions about the vintage product? Email Hearthsidehomeandgarden@gmail.com
Website: hearthsidehome.com
Have some vintage finds of your own? Email us at vintage@franceandson.com to list your find on our blog for free. Submit pictures, a paragraph or two about your product, and give us a price and contact info to list it. We don't take any cut. We just ask that you inform us if/when it sells, so we can adjust the blog post accordingly.