On sale for only $1000 for 2! The CH 23 chair was designed in 1951 by world-renowned, Danish furniture designer, Hans Wegner. The CH 23 chair is one of the best Danish dining chairs to come out of the Mid-Century Modern design movement. The CH 23 chair provides the perfect mix of classic design and modern comfort with a rustic charm. Featuring a traditionally constructed solid wood frame and an ergonomic backrest, the modern side chair provides body-cradling comfort and support while accentuating the chair's organic warmth.
Photo courtesy of France and Son
Legendary designer, Hans Wegner was known for his use of high quality materials and thoughtful designs. His mid-century danish designs were often described as 'organic functionality' because he places the highest demands on comfort and ergonomics. To Wegner, a chair isn't just a piece of furniture, but a work of art made to support the human form.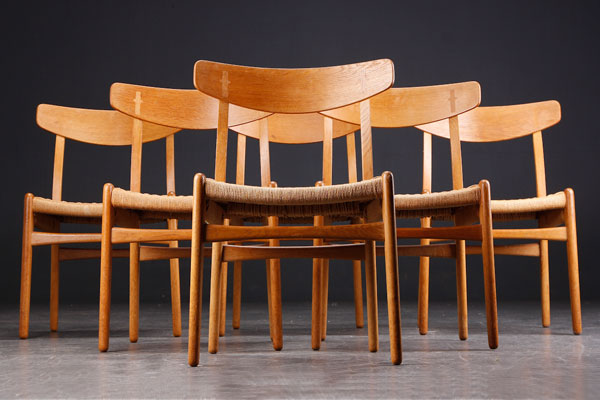 Photo courtesy of KAMADA
Wegner has a great fondness for wood due to his background as a skilled cabinet maker. Since then, he has been integrating wood into his chairs with creative and surprising sculptural lines. The Danish word for 'design' is 'formgivning', which literally translates to 'giving shape.' Wegner's designs perfectly portray the definition, changing the view of mid-century furniture, for the better.
Photo courtesy of Fusion Interiors
Wegner exhibited a typical approach of "stripping the old chairs of their outer style and letting them appear in their pure construction" in which displayed a freer form. It is said that he "always wanted to make unexceptional things of an exceptionally high quality." He has re-defined the mid-century modern design to the Danish public.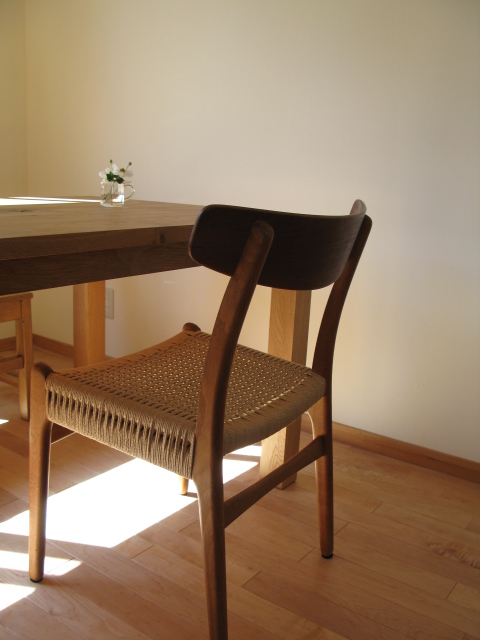 Photo courtesy of Konnshia
They have beautiful joint detail on the backrest with the inset oak, consisting of unique grain patterns, against the teak. The hand woven Danish paper cord seats are a work of art and very comfortable. A light but versatile piece of furniture that brings a gracious and welcoming air. A classic piece of furniture to add to your modern dining environment!
Photo courtesy of Pamono
Wegner is recognized worldwide and reflected in his title 'the Master of the Chair', he is considered to be one of the most creative and productive Danish furniture designers of all time.
"A chair is to have no backside. It should be beautiful from all sides and angles." - Hans J. Wegner
Photo courtesy of Denmark
Materials:
Oak
Papercord
Teak
Condition: Vintage Condition appropriate with age.
The vintage CH 23 chair is currently located in our Chelsea showroom at 122 West 18th Street, New York, NY 10011
For only $1000/2

Have some vintage finds of your own? Email us at vintage@franceandson.com to list your find on our blog for free. Submit pictures, a paragraph or two about your product, and give us a price and contact info to list it. We don't take any cut. We just ask that you inform us if/when it sells, so we can adjust the blog post accordingly.