On sale for only $2,600! The Spanish Chair was designed in 1958 by the Danish furniture designer, Borge Mogensen. The Spanish Chair is part of the Fredericia collection in which was inspired by the Islamic culture and Spain. The Spanish Chair provides the perfect mix of traditional and practical design with a strong, rustic appearance. Featuring the combination of oak and butt leather, the modernized piece of furniture eliminates elaborate carvings while retaining the important elements. The broad armrests give the chair a masculine character and provides a practical place to put a glass or cup.
Photo courtesy of France and Son
Borge Mogensen was one of the most important furniture designers who has made the concept of 'Danish Modern' known across the world. Colleagues such as Arne Jacobsen and Hans Wegner, Mogensen has created international respect for the Danish Modern movement, the simple and functional design has been enjoyed and greatly appreciated worldwide through its high demand for it.
Photo courtesy of noe.
Mogensen has a long list of skills and accomplishments with an extensive background in cabinetmaker, furniture design, and architecture; in which he incorporates all elements in each field, making his designs unique. Mogensen had a way of introducing new ideas into his traditional forms, resulting in a 'Danish Modern' style which was greatly appreciated by a public who had not yet become interested in modernism. Mogensen has appeased the skeptics with his classical designs.
Photo courtesy of miss design says
Borge Mogensen's designs is best described as functional and characterized by strong and simple lines. With a clean and high functional aesthetic, he was dedicated in providing affordable and practical designs through his preferred material, wood. His approach to furniture design is almost a scientific analysis of functionality, making him a true genius who helped define and popularize the notion of modern Danish design.
Photo courtesy of Portuondo
The Spanish Chair was part of an innovative living space exhibition, in which all tables were removed from the floor to create an open living space. The Spanish Chair was the first chair to boldly step outside of its comfort zone, with its creative and efficient design, it has been happily welcomed into the Danish modern movement. The Spanish Chair achieved a sturdy design with exceptional durability through geometric precision in which displays an enduring character.
Photo courtesy of twentytwentyone
Borge Mogensen was a prolific furniture designer, exhibiting almost every year at the Copenhagen Cabinetmaker's Guild Exhibitions and was Head of Furniture Design during the 1940s for the Danish Cooperative Wholesale Society. He was deeply committed in designing classical, simple and highly functional furniture and even researched people to develop domestic objects that were customized to their specific use.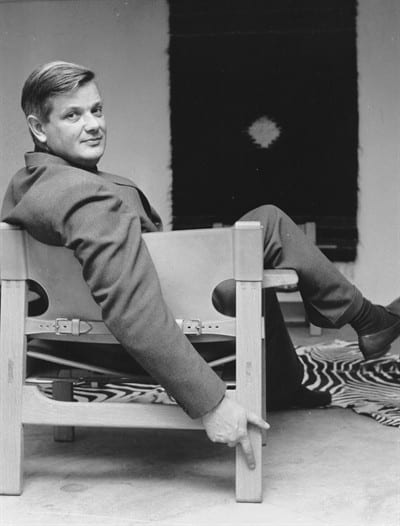 Photo courtesy of Scandinavian Design
Materials: Oak & Leather
Condition: Vintage Condition appropriate with age.
The vintage Spanish Chair is currently located in our Chelsea showroom at 122 West 18th Street, New York, NY 10011
For only $2,600

Have some vintage finds of your own? Email us at vintage@franceandson.com to list your find on our blog for free. Submit pictures, a paragraph or two about your product, and give us a price and contact info to list it. We don't take any cut. We just ask that you inform us if/when it sells, so we can adjust the blog post accordingly.
France & Søn specializes in Mid-century Modern furniture & Mid-century Modern Lighting!